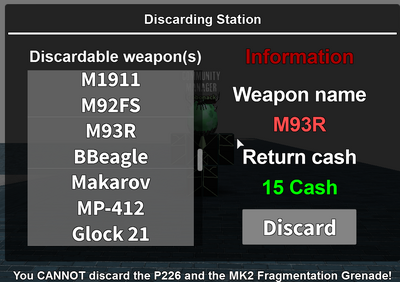 The Discard Weapon function, shown as the "Discard a weapon!" button, allows users to return guns they no longer want in exchange for cash.
The other, arguably more important, button related to this is the Shop .
Functionality
When discarding a weapon, the menu will only refund you a small portion of the price of the weapon.
All guns that are not bought from the shop (excluding free guns) will give you 0$ cash. This is so you can't spam it and get virtually infinite cash.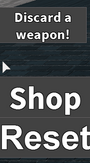 Trivia
Its rumored that you can glitch guns to sell for more than what there worth. This can also be abused through a form of exploiting.
Before the GUI Overhaul Update, the Discard menu would only refund 5 cash per item, and items had to have their names typed out entirely for the weapon to be discarded.
The P226 and MK2 Grenade cannot be refunded.
If a weapon is on sale, the discard price is lower.
Ad blocker interference detected!
Wikia is a free-to-use site that makes money from advertising. We have a modified experience for viewers using ad blockers

Wikia is not accessible if you've made further modifications. Remove the custom ad blocker rule(s) and the page will load as expected.