Overview
The Farmer Time's Mart, or Food Mart, is the location that replaced the removed Apartment Building in Stranded on Earth: The First Strike.
Description
It is a single story building with empty shelves, one of them being pushed over, presumably during a raid of the store when people needed supplies. There are two gaping holes in the large glass windows which can easily be boarded up. It also features a long wrap around counter, and a freezer at the back of the store. There is also a large roof, with a ladder on the side near the main doorway, and a big parking lot in front of the store. On the ceiling throughout the Food Mart, there are ceiling lights, which will flicker from time to time. These lights will provide you with enough light to see indoors at night.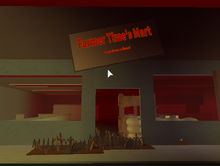 This location is a great place for a base if you're on a low budget, as only two windows and the main door need to be protected. Also, the lights inside the store are full functional and will provide enough light indoors. However, if you want to use the roof, you'll have to add more buildables to protect it, as it doesn't take much for the zombies to climb up there and chow down on you. Best of luck to ya.
During
Crimson Night
, the lights on the ceiling turn
dark red
, like a lot of ceiling lights in the game.

Player Experiences
BarakkuOni - "I highly recommend this place as a base if you're new to the game, or are low on cash, as all you really need is 4 High Walls, 1 Sandbags, 1~2 Windows in front of the Sandbags, and 3~4 Shredders. The roof is optional."
Ad blocker interference detected!
Wikia is a free-to-use site that makes money from advertising. We have a modified experience for viewers using ad blockers

Wikia is not accessible if you've made further modifications. Remove the custom ad blocker rule(s) and the page will load as expected.