Overview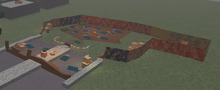 The Highway Outpost is a location in-game. The other locations can be found on the Map page.
Information
The Highway Outpost is an important area of the game, as it contains a Mystery Box.
The Highway Outpost is a pretty safe area. The nearest zombie spawns are at the Micro-Fort. The Highway Outpost is easy to defend, as it already has pre-built fortifications in place. However, the fortifications are not likely to hold against a horde.
Like the area around the Mineshaft, the Highway Outpost has a firing range.
Ad blocker interference detected!
Wikia is a free-to-use site that makes money from advertising. We have a modified experience for viewers using ad blockers

Wikia is not accessible if you've made further modifications. Remove the custom ad blocker rule(s) and the page will load as expected.