Overview
This page is dedicated to the entirety of the whole game map, and is used as the hub for any other locations of the game.
List of Locations
The following locations are on the map pictured to the right, starting in the middle of the image, then going clockwise from the top of the image. (North):
Trivia
During the winter months of the year, the ground is covered in snow.
It is rumored that there will be a small town added to the map.
During the autumn months, the grass and trees start to die and lose their green color.
Obsolete Map Information
Apartments - Removed due to large block count and other reasons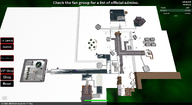 Ad blocker interference detected!
Wikia is a free-to-use site that makes money from advertising. We have a modified experience for viewers using ad blockers

Wikia is not accessible if you've made further modifications. Remove the custom ad blocker rule(s) and the page will load as expected.