Overview

The Military Camp is a location in-game. The other locations can be found on the Map page.
Information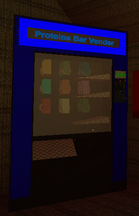 The Military Camp is a major area, with both a Mystery Box and the one and only Protein Bar Vending Machine.
The military camp is considered by some to be the most unsafe location in the entire map, and for good reason. The military camp has barely any fortifications around it, and the houses are small enough so that zombies can reach through them and deal damage, even if you aren't directly against the wall. In addition, the military camp is near two major zombie spawn points. Even still, some people make it their base of operations, so it may have some hidden merit.
If you really want to base here, you will need to line the entire camp with at high walls and have people keeping watch at all directs for zombies. It truly is the most unsafe location in the game.
Ad blocker interference detected!
Wikia is a free-to-use site that makes money from advertising. We have a modified experience for viewers using ad blockers

Wikia is not accessible if you've made further modifications. Remove the custom ad blocker rule(s) and the page will load as expected.