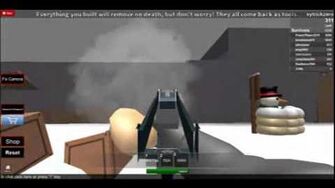 The Spectre M4 is an
SMG
in Stranded on Earth : First Strike
Weapon Information
Cost: 190 cash
Ammo capacity: 50 rounds in mag , 900 max spare ammo
Damage (In shots) *Estimated*: 1/5 of full zombie health (5 shot kill)
Reload speed: Around 2.5 seconds.
Fire rate: THIS THING FIRES AS FAST AS A MINIGUN NOW BECAUSE WHY NOT
Additional Information
This gun is different from every other gun in the game because when you ADS,You first have to flip out the stock which are blocking the iron sights. There are no positive effects to this (Less recoil,More damage,Etc),And so it hinders your ADS time and could be a problem. But the gun makes up for it with the huge 50 round mag capacity....if the bullets all fired. Due to the FIRING AS FAST AS A MINIGUN NOW BECAUSE WHY NOT? firerate, the bullets dont even all fire. Burst fire is the best idea, but really, click fire is the truely best option. If not, this thing sucks even more then the MG-42 when it was in it's old stages.
Ad blocker interference detected!
Wikia is a free-to-use site that makes money from advertising. We have a modified experience for viewers using ad blockers

Wikia is not accessible if you've made further modifications. Remove the custom ad blocker rule(s) and the page will load as expected.