The Striker is a shotgun purchasable through the shop for 280$.

Overview
The Striker is a shotgun in Stranded on Earth: The First Strike. It is the only semi-automatic shotgun in the game, and is commonly considered one of the most devastating weapons in the game.
(NOTE: The part about it being considered so devastating may or may not have come from the editor's experiences. Blame MoonCat10.)
Pros and Cons
Pros
Able to trip zombies, good for when getting chased and nearly swarmed with zombies.
Devastates hordes
Semi-auto
Large clip compared to other shotguns
Cons
Bad melee attack
More than a little recoil
Crippling reload speed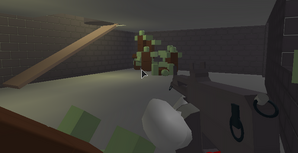 Trivia
This can be used as a troll weapon, for its capability to trip players.