The Uncle Gal is the Pack-A-Punched version of the IMI Uzi SMG, adding the attachments of a holo sight, a grip, a silencer, more ammo, and a fire rate similar to the Lumbermill.
How many bullets it takes to kill a normal zombie is about 1, 2, or 3 bullets depending on the zombie.
Each clip holds 50 bullets and can hold up to 1500 spares, totaling to 1550 rounds in total.
Reloading takes approximately 1.5 seconds and 3 when you use the whole clip and cock the gun along with a fire rate of 12.5 bullets per second making it a very agile weapon.
Description "Your nephew/niece will call you this, because THIS gun will get you all the gals."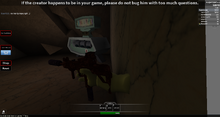 Pros
Fast fire rate
Decent damage
Giant reserve ammo
Pretty good reload
Cons
Tiny clip size (to run the fire rate through)
Very expensive
Ad blocker interference detected!
Wikia is a free-to-use site that makes money from advertising. We have a modified experience for viewers using ad blockers

Wikia is not accessible if you've made further modifications. Remove the custom ad blocker rule(s) and the page will load as expected.